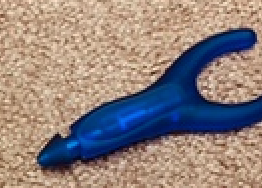 Day Undefined Notes:
Michael absolutely loves this pen (see his review, below), but read Hannah's blog "I love writing" to find out why this product wasn't right for her.
_____
Where to find this product:
We encourage you to shop wherever is best for you! Here is where we found it:
_____
Product Recommendation by Michael C: (Mike is not part of our review team, but we welcome submissions!)
Awesome Pen! If you have problems holding on to regular pens, this pen is for you! The "Y" shape fits great on your index finger and helps greatly with keeping the pen in your hand. I do have to admit it does not help improve handwriting, but it does stop the frustration of constantly dropping my pen. My employer also approved this as an accommodating device and bought me a few for my desk. I highly recommend this item!