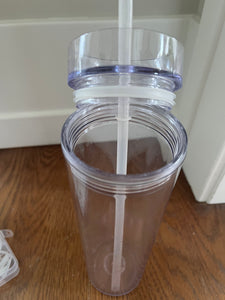 Day Undefined Notes:
These double walled acrylic tumblers (16 oz.) don't create the condensation that can make cups slippery and are the right size for standard cup holders. They are also thinner than many tumblers. You push on or pull off the lid rather than screw it on. This variety comes in clear, but they are also available with colored lids and straws.
**Please note that in the photo, you might see a small, clear ring around the middle of the straw. This "o-ring" is not part of the straw, but was put on the straw as a hack to keep the straw from pulling out of the cup while drinking. Unfortunately, the o-ring doesn't necessarily stay in place, so it's not a hack we recommend.
_____
Where to find this product:
We encourage you to search and shop for the model that is right for you! Here are two options that we found:
Amazon - Maars Drinkware Skinny Tumblers
WalMart - Maars Drinkware Skinny Tumblers
_____
Product Recommendation by Jen: (Jen is not part of our review team, but we welcome submissions!)
These 16 oz. tumblers have long been one of Jen's favorite styles of cups because they are durable, thin, and not as heavy as many other tumblers when full. 

Pros:
She likes this one because it is thin enough to hold, doesn't get slippery, and isn't so heavy when it's full.
They are pretty durable, and while they might leak a little if knocked over (around the straw opening), they won't spill completely. 
They keep drinks cold very well! 
Cons:
The straw has a stopper at the bottom which keeps the straw from falling out (good!), but it can still pull quite far out of the cup if you have trouble releasing it with your mouth (not so good).
Ideally, the straw would be slightly curved at the top rather than completely straight.
_____
Video Review by Liam: (meet our team):