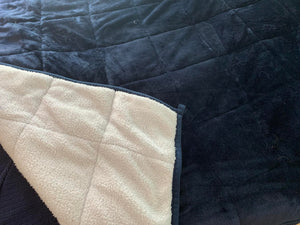 Day Undefined Notes:
This fleece weighted blanket by joybest is 12 pounds and twin size (48x72 inches) but can be purchased in different weights and sizes. Small non-toxic glass beads are distributed throughout the blanket, which is designed for adults, not children.
_____
Where to find this product:
This exact blanket currently seems to be unavailable on Amazon. As a similar alternative, consider this microfiber flannel weighted blanket by joybest, which comes in different weights, sizes, and colors.
Reviewed product (unavailable): Fleece Weighted Blanket for Adults by joybest

_____
Product Review by Sarah (meet Sarah, here):
I first got this weighted blanket to keep warm on cold Minnesota nights. The temperature can drop to well below zero and then stay there during the winter. I found that the blanket did keep me very warm, and it also helped slightly with muscle pain at night. It is of course heavy, and it can be a nuisance to pull back up if it falls down. It's worth checking out, though, especially if your chronic pain issues are exacerbated by cold weather.
No video review at this time.